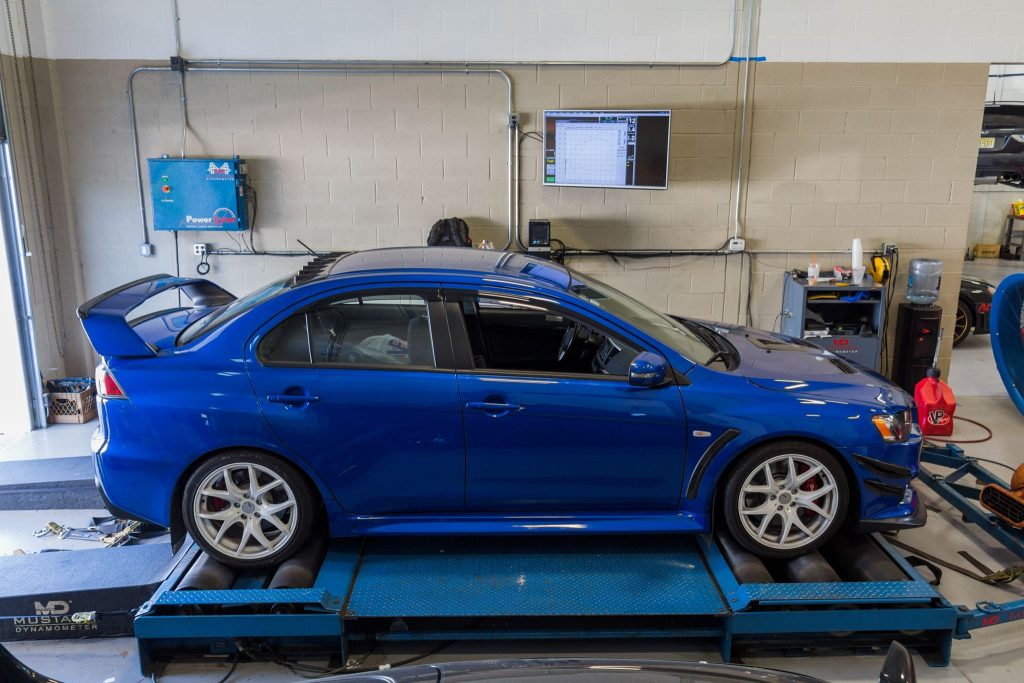 Dyno Tuning Overview
Prime Motoring offers custom tuning for a wide variety of makes and models. Our tuner Junior Barrios (JR Tuned) calibrates your car based on the modifications done to the vehicle to obtain the maximum power while maintaining reliability and drive-ability. Engine management is a must if you have done any modifications to your vehicle, or if you just want to get the most out of what came from the factory.
Our shop is equipped with a Mustang AWD150SE Dynamometer. Full time AWD vehicles are designed to provide maximum performance regardless of road conditions. In order to properly test an AWD vehicle for peak performance, an AWD chassis dynamometer must be able to simulate ideal road-load conditions to the vehicle. This approach allows the vehicle to be evaluated under "optimum" operational conditions; whereby torque is distributed to the vehicle's tires in the same manner that would normally occur when a vehicle has equal traction at all four drive wheels, and is therefore operating at peak efficiency.
To achieve this, Mustang's AWD-150 incorporates a linked drive system that synchronizes the front and back rollers to simulate a flat, dry road condition. Synchronization, or linkage, insures that the front and rear rollers are always spinning at precisely the same road speed. This process eliminates the possibility of activating a vehicle's traction control system and also insures that a vehicle's torque management system is operating under the assumption that the vehicle is not skidding, turning or slipping.
Scheduling and Deposits
Tuning is scheduled at least 7 days in advance. There is a $350 non-refundable deposit required when scheduling your appointment. This deposit is a necessary evil in order to maintain our schedule due to the number of cars tuned. Please call 5 or more business days prior to your appointment if there is a need to reschedule for any reason (mechanical, weather, illness, etc). Failure to arrive on time to your appointment or reschedule within 5 business days of the appointment date will result in forfeiture of your time slot and the deposit. There are absolutely NO refunds on deposits.
Pre-Dyno Inspection
One of our strongest recommendations is to perform a PDI (Pre-Dyno Inspection). Which consists of a Boost Pressure test, Vacuum Leak test, and a visual inspection to ensure proper functionality of components (example: boost controller, intake, etc). If an issue is found during the inspection we will make our best effort to repair the issue, however if issue is not able to be rectified you may lose your appointment. This service is only $85 and could potentially save you hundreds if your car has an issue during its session. Also, if you forego the inspection and an issue does arise you may lose your session, deposit and subject you to labor charges for repairing the car.